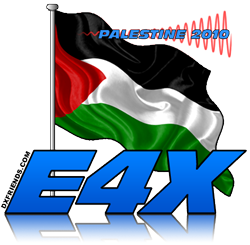 * We will be emphasizing our operation on this band, it will be a new one for most 6 m operators.
* The Sporadic E season has started and we are hopeful we have chosen a good time frame.
* The set up consists of a 7 elements yagi on the top of six storey building, IC-7000 radio and an amplifier.
* We will be QRV 6m when the band is open.
* Frequency is 50.103 for both cw/ssb. Although it may be changed, depending on local noise/birdies. Split operation will be deployed when needed.
* Main mode is CW. If band conditions permit, SSB mode will be used to gain a higher QSO rate.
* Please do not ask for mode changing.Please avoid QSO duplication, give others a chance.
* Logs will be uploaded twice a day to our site.
* Long haul contacts are rare and last for a short period. If multi-hop event happens the operator will give it special attention.
*
Grid locator is: KM71oq.
*
Please, DO NOT send your locator

,
it is not needed and we won't log it anyway, it wastes precious time.
* Whenever it's possible, and while the band remains closed, the station will be beaconing on the same frequency.
QSL is via EA5RM