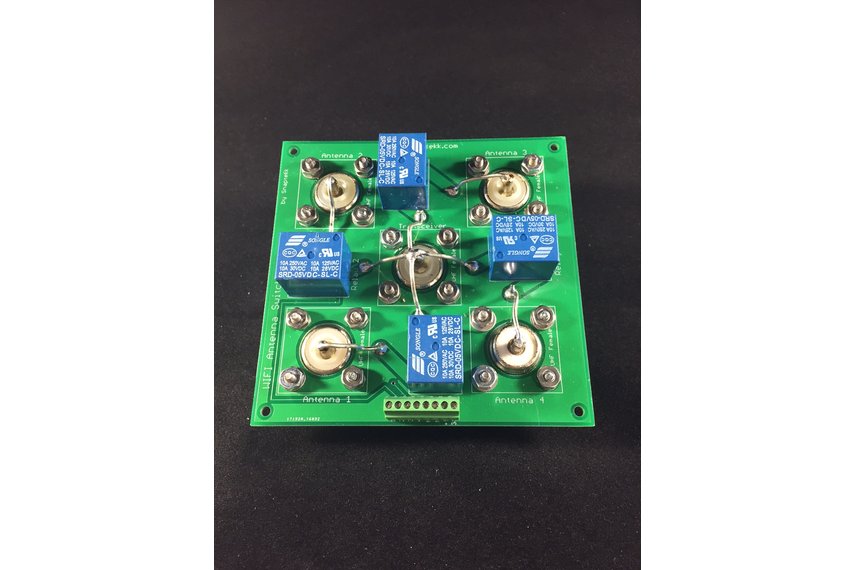 WiFi Wireless Ham Radio Antenna Switch allows a single transceiver to switch 4 antennas. Free iPhone app on Apple Store. TCP control.
FREE CONTROL iPHONE APP ON APP STORE: ANTENNA SWITCH The WiFi Wireless Ham Radio Coax Antenna Switch 82664XAS01 allows a single transceiver to switch between 4 antennas or 4 transceivers to switch to a single antenna. Full configurable via a web browser. The switch responds to TCP commands. It can handle up to approximately 250 Watts and covers frequencies from 0 to 150 MHz. Control the switch with a free iPhone app AntennaSwitch switch available now on the apple store The switch comes with 2 separate boards: the control board and the connector board. Both boards are connected together with wires. Screw connectors are provided. The WiFi wireless antenna switch allows switching from 4 different antennas into one output to the transceiver. I can also be reverted so 1 antenna can be switched to 4 different transceivers. The switch module can be mounted on a box for convenience and safety. The module is controlled via the simple TCP commands 1, 2, 3 and 4 to switch between the 4 different inputs. Once the module is configured and acquires an IP address, commands can be sent to its IP address and port 9999 to switch between the inputs.
The module features a reset button, a flash switch for re-flashing the firmware if needed and a serial TX and RX terminals for optional configuration, communication and monitoring.
It requires a 5VDC power supply and 200 ma.
Free iPhone app AntennaSwitch available on the App Store
Once you connect to the antenna switch module and establish a TCP connection using the acquired IP address and port 9999, the switch responds to the following simple TCP commands:
1 – (default state) connect input antenna 1 to output
2 - connect input antenna 2 to output
3 - connect input antenna 3 to output
4 - connect input antenna 4 to output
TCP commands can be sent using any TCP communication APP or programs or you can write your own program. Here is an example of a Python program that will communicate with the switch module and send the command that are typed on the terminal:
import socket
import sys
TCP_IP = "192.168.1.20" #the switch IP address
TCP_PORT = 9999
s = socket.socket(socket.AF_INET, socket.SOCK_STREAM)
s.connect((TCP_IP, TCP_PORT))
while True:
line = sys.stdin.readline()
if line:
s.send(line)
line1 = s.recv(1024)
print("Received: ", line1)
else:
break
s.close()
INFO:
https://www.tindie.com/products/hbouzas/wifi-wireless-ham-radio-coax-antenna-switch/